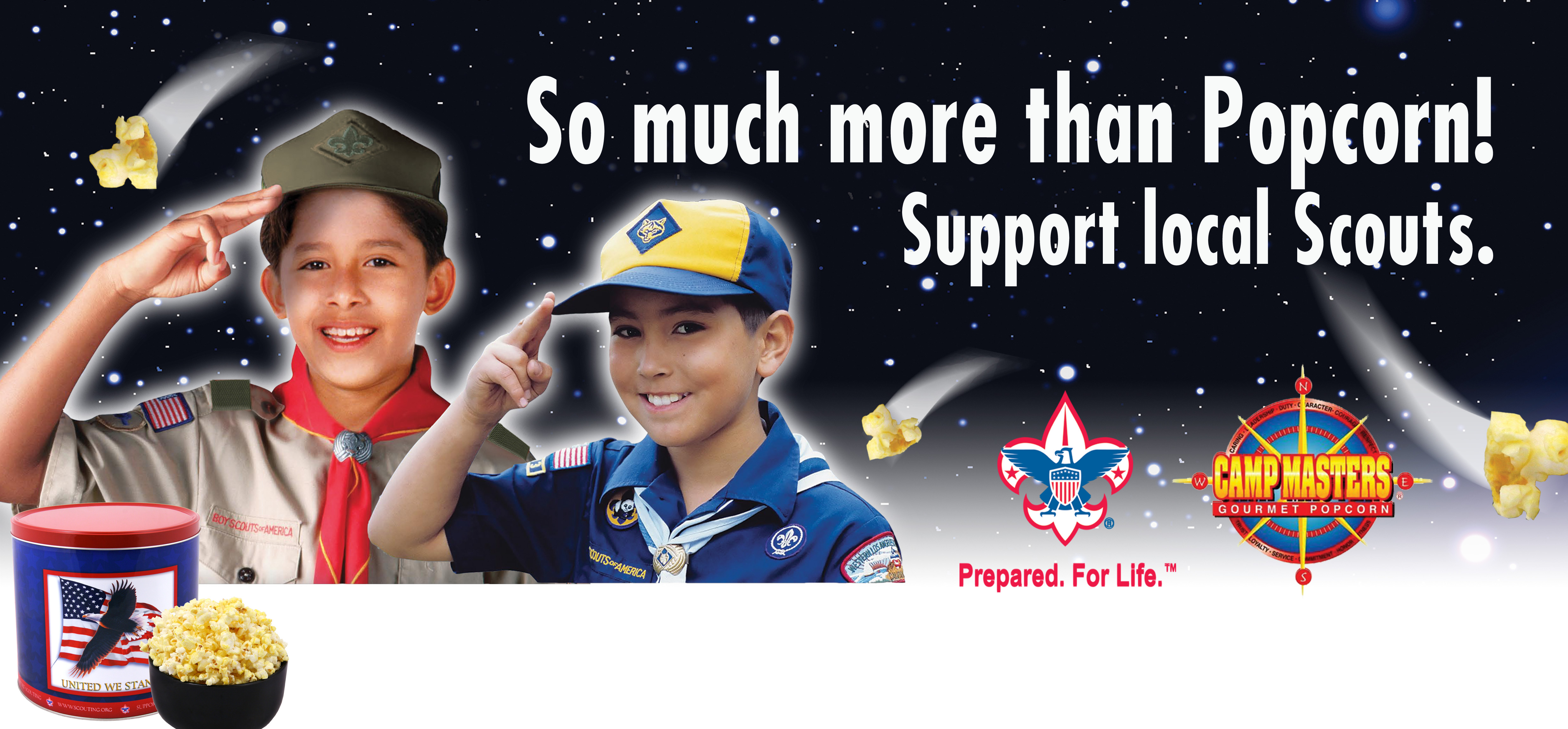 You Asked for It and You Got It!
We have listened to you, our customers, and chosen Camp Masters Popcorn to continue as our vendor again for the Council's Popcorn Sale this fall.
You will be pleased to know that the Product line for this Fall will include:
5 Way Chocolatey Treasures Tin
3 Way Premium Tin
3 Way Cheese Tin
A Variety Tin that features the new Mauve Real Butter & Kettle Corn
22 Pack Movie Theater Extra Butter Microwavable
Choclate Drizzled Caramel with Nuts
Trail Mix

White Cheddar Cheese Tin

14 Pack Extra Butter
Mauve Sea Salt Tin
12 Pack Sweet and Salty Kettle Corn
Popping Corn
Carmel Corn
Military Donations
In addition CAMP MASTERS also has tremendous Program Support with a toll free number to talk to a live person at 1-800-624-2060 to answer any questions.
IMPORTANT FORMS
Fund Your Adventure Spreadsheet
Pay Anywhere Credit Card Reader
Introduction to the Popcorn Website
Unit Popcorn Kickoff Presentation
2018 Order Form and Popcorn Selection Forms
Popcorn Order Forms (complete packet)
Popcorn Unit Training Schedule
Popcorn Sales Calendar

Show & Sell (S&S) Orders placed on line = August 16th

S&S Product Pickup = August 31st (also need to move bullet up 1 position)

S&S Payments Due = October 19th

Take Orders Placed on-line = October 29th

Prize Orders Placed on-line = October 29th

Popcorn Distribution = November 9th

Take Order Payments Due = December 1st

Final Day to Place Prize Orders = December 1st

UNIT KERNEL TRAININGS

Council Membership and Popcorn Kickoff

Sunday, June 10th from 2 to 4pm

Horseheads High School (401 Fletcher Street Horseheads, NY)

Learn About the 2018 Sale and Earn an Additional 2% Commission

August Back to Scouting District Roundtables

Thursday, August 16th at 6:00pm - Cowanesque Lake Park (Tioga, PA)

Monday, August 13th at 7:00pm – Location TBD (Hornell, NY)

Tuesday, August 14th at 7:00pm – GST BOCES, Bush Campus, Building 1 (Elmira, NY)

Thursday, August 16th at 7:00pm – Location TBD (Towanda, PA)

Learn Final Tips & Tricks for a Successful Sale and Earn an Additional 1% Commission

---

DID YOU KNOW?

Units that participate in Show & Sell increase their total sales an average of 25%

Units that use Credit Card Readers in their sales increase by an average of 25%

Our top selling Scout in 2018 sold more than $8,000 worth of Popcorn

If every Scout and Scouter in the Council sold 7 Popcorn Items we would raise half a million dollars for local Scouting
Popcorn Selling Options
Take Order
A Scout goes door to door with a take order form with a parent or a buddy, the customer writes their order on the form, the Scout returns to deliver the product and collect payment in a few weeks. Remember always to say "thank you" to the person purchasing the popcorn.

Show-N-Sell
The unit works as a team at a location(s) to show their products and to make immediate sales after getting permission to sell in front of a business, storefront, or other location.

Online
Allows Scouts to sell online to family and friends. There is an online account available for each individual unit and/or for each individual Scout. Sales generated online qualifies toward Scout Rewards and scholarship credit.
**Note: All Popcorn & Prize Orders MUST be placed using the On-line Ordering System**
Accepting Credit Cards
You and your Scouts can now accept credit cards! This link takes you directly to the page to sign up:
www.payanywhere.com/campmasters